Be The Buffer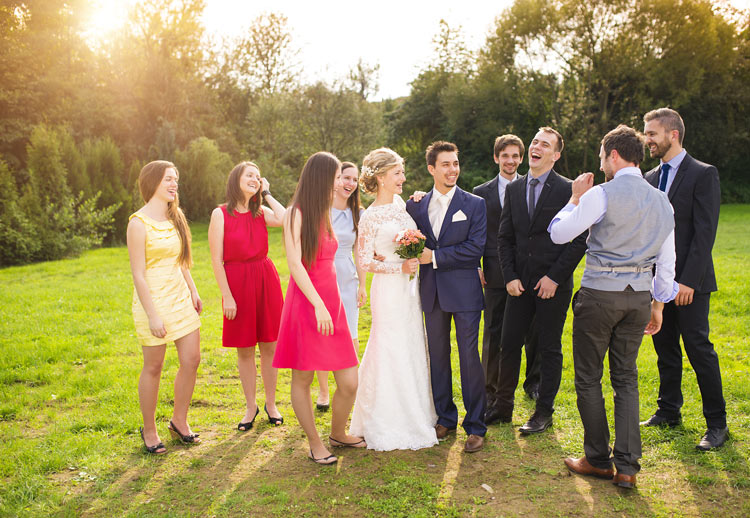 Nothing brings out family/friend dynamics like a wedding.  Because there will be everyone the wedding couple loves in one room, there is bound to be relationships that don't "mesh" attending or people who haven't seen each other in years.  Maybe the bride hates one of the groom's friends.  Perhaps an aunt is not supportive of the marriage (and vocal about it), but loves her nephew and responded yes.  Maybe one set of parents are divorced, and haven't been in the same room in a very long time.  Whatever the situation, consider yourself the human shield.  As the best friend, you know all these relationship hurdles, and you can diffuse many of these situations.


What can you do?
Dance with a parent who has no date, and feels uncomfortable.  It will make that parent and your friend super happy, as well as cut that tension.
Bridesmaid is drinking too much, and starts complaining about the dress choice?  Ask her to join you in the photo booth, which happens to be across the room, away from the couple.
A few groomsmen start talking (loudly) about the bachelor party night, and you know it will upset the bride.  What is the plan of attack?  
Remove the bride.  Ask her to dance with you, or take some photos with your high school friends at table 9. And be sure to cut that convo short.  There is nothing wrong with saying, "What happened at that party, stays at that party," to the coffee clutch.  Pull no punches, and do it in a humorous way.
I tell every couple who gets married, weddings are emotional.  So if there is a negative emotion wafting towards the newlyweds like the stank odor of Pepé Le Pew, be that human shield.  Oooo, and there is no need to tell them what you did.  Consider it a silent gift.  They don't need the added stress.
Make Sure They Eat.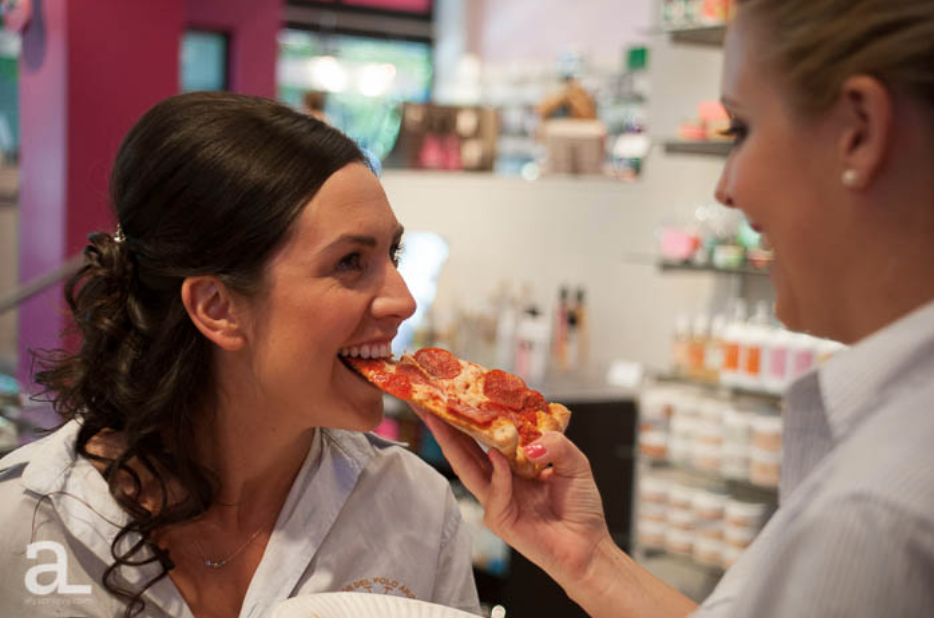 Post wedding, it is so common for the sweethearts to utter, "we didn't get to eat anything."  Here at The Grandview, our wedding attendant and maître 'd will be on top of that; making sure all the couple's selections are available to them.  But that doesn't mean we can make them eat.  Adrenaline is pumping.  Drinks are flowing.  There are so many people to smooch and hug.  Be the person that holds a shrimp skewer to the groom's mouth and say, "Try this."  Make the bride a small plate of the hors d'oeuvres you know she has been talking about for the past month.  Trust me; they will thank you for it.
Help them with (Personal) Things.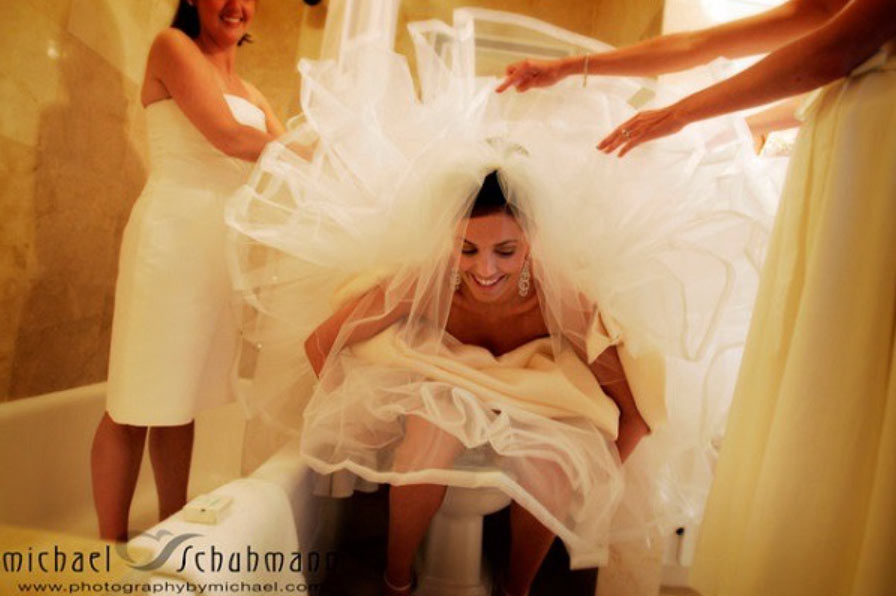 Maybe you carry a lip gloss in your bra?  Maybe you are on bathroom duty, and pull down their spanks while they pee?  (Yes, they need someone to help with that.)  Who's to say they are taking photos, and you notice a hair out of place, a stain on the lapel, a wrinkle in the veil?  Get on that!  Think of ways to help, before the wedding starts, like stocking up on the mint of choice, and keeping it in your pocket or purse.
Serve as Auxiliary Host/Hostess.
What does this mean? Find ways to help guests at every turn.
At the reception, introduce guests, that don't know one another.  I witnessed this at a wedding once, where the bride had a lot of friends that didn't know one another.  My friend would say, "This is my friend Margaret.  We studied abroad together.  Margaret is a wedding planner in Poughkeepsie.  This is my friend Aubrey.  Aubrey is the greatest second grade teacher in my school."  So when my friend walked away, Aubrey and I could continue chatting and the ice was already broken.
Make sure they know where the bar is located, and inform them that "this signature cocktail is awesome."
Invite them to sign the guest book, the sign-in frame or visit the video flip-book booth.
Guests are forgetting their favors?  Hand them out.
Just take it.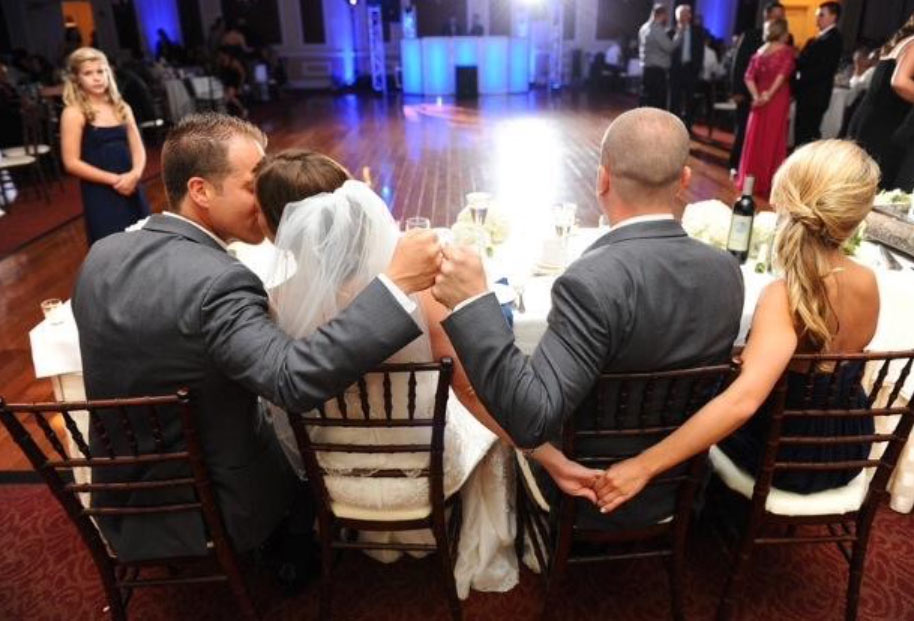 This might be the hardest one.  This is your best friend's wedding.  Excitement is at an all-time high, and so are nerves.  So, you get yelled at for not knowing where the marriage license is.  JUST TAKE IT!  Be a raincoat.  Let the storm hit you, but roll off your back.  You are their person.  I promise; it will be appreciated.