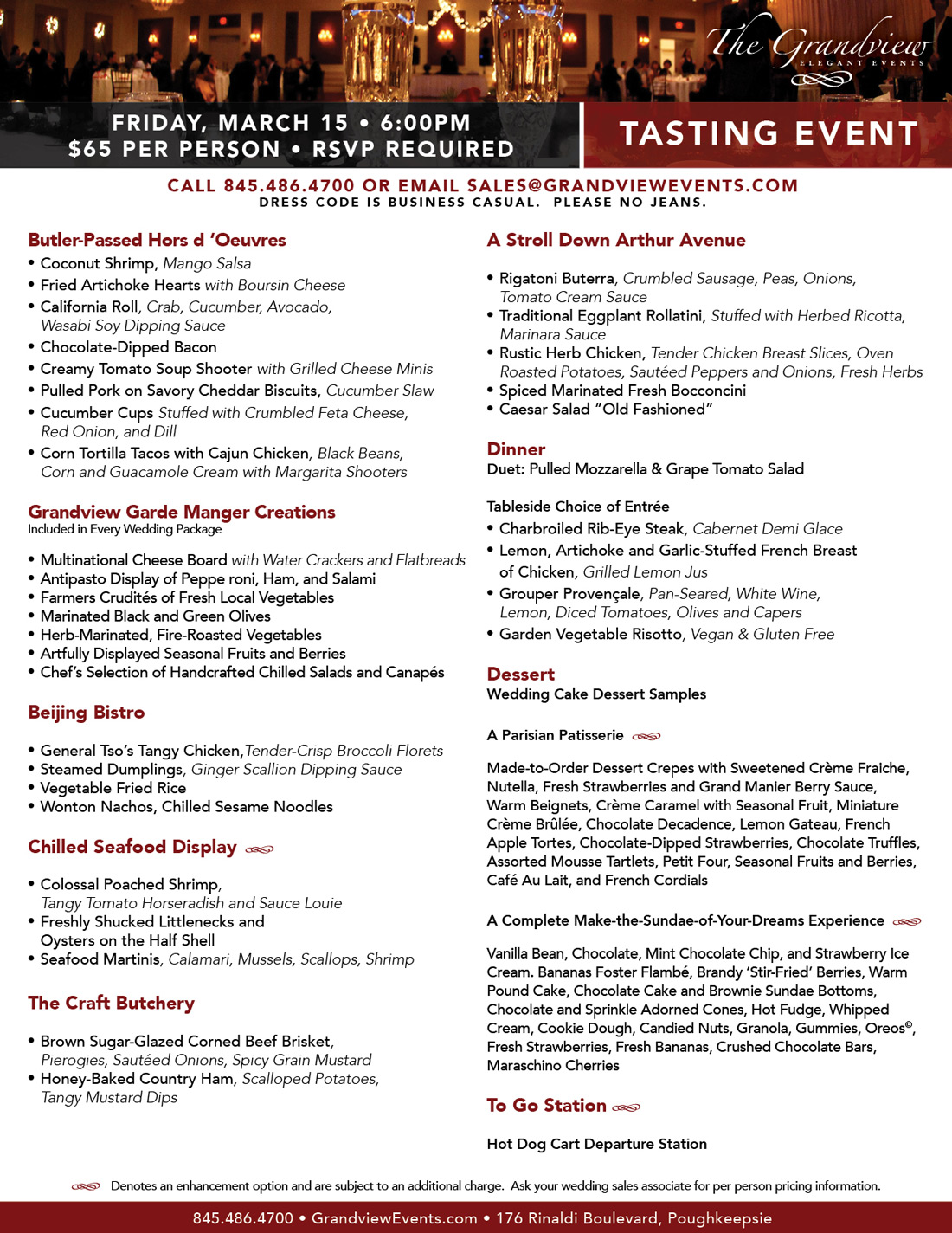 March 15 Tasting Event
March 15, 2019 @ 6:00 pm

-

9:00 pm

|

$65
Contact us today to reserve your space at our tasting event by calling 845-486-4700 or email sales@grandviewevents.com.
---
Our Menu
Butler-Passed Hors d 'Oeuvres
Coconut Shrimp, Mango Salsa
Fried Artichoke Hearts with Boursin Cheese
California Roll, Crab, Cucumber, Avocado, Wasabi Soy Dipping Sauce
Chocolate-Dipped Bacon
Creamy Tomato Soup Shooter with Grilled Cheese Minis
Pulled Pork on Savory Cheddar Biscuits, Cucumber Slaw
Cucumber Cups Stuffed with Crumbled Feta Cheese, Red Onion, and Dill
Corn Tortilla Tacos with Cajun Chicken, Black Beans, Corn and Guacamole Cream with Margarita Shooters
Grandview Garde Manger Creations
Included in Every Wedding Package
Multinational Cheese Board with Water Crackers and Flatbreads
Antipasto Display of Peppe roni, Ham, and Salami
Farmers Crudités of Fresh Local Vegetables
Marinated Black and Green Olives
Herb-Marinated, Fire-Roasted Vegetables
Artfully Displayed Seasonal Fruits and Berries
Chef's Selection of Handcrafted Chilled Salads and Canapés
Beijing Bistro
General Tso's Tangy Chicken,Tender-Crisp Broccoli Florets
Steamed Dumplings, Ginger Scallion Dipping Sauce
Vegetable Fried Rice
Wonton Nachos, Chilled Sesame Noodles
Chilled Seafood Display *

Colossal Poached Shrimp, Tangy Tomato Horseradish and Sauce Louie
Freshly Shucked Littlenecks and Oysters on the Half Shell
Seafood Martinis, Calamari, Mussels, Scallops, Shrimp
The Craft Butchery
Brown Sugar-Glazed Corned Beef Brisket, Pierogies, Sautéed Onions, Spicy Grain Mustard
Honey-Baked Country Ham, Scalloped Potatoes, Tangy Mustard Dips
A Stroll Down Arthur Avenue
Rigatoni Buterra, Crumbled Sausage, Peas, Onions, Tomato Cream Sauce
Traditional Eggplant Rollatini, Stuffed with Herbed Ricotta, Marinara Sauce
Rustic Herb Chicken, Tender Chicken Breast Slices, Oven Roasted Potatoes, Sautéed Peppers and Onions, Fresh Herbs
Spiced Marinated Fresh Bocconcini
Caesar Salad "Old Fashioned"
Dinner
Duet: Pulled Mozzarella & Grape Tomato Salad
Tableside Choice of Entrée
Charbroiled Rib-Eye Steak, Cabernet Demi Glace
Lemon, Artichoke and Garlic-Stuffed French Breast of Chicken, Grilled Lemon Jus
Grouper Provençale, Pan-Seared, White Wine, Lemon, Diced Tomatoes, Olives and Capers
Garden Vegetable Risotto, Vegan & Gluten Free
Dessert
Wedding Cake Dessert Samples
A Parisian Patisserie *
Nutella, Fresh Strawberries and Grand Manier Berry Sauce, Warm Beignets, Crème Caramel with Seasonal Fruit, Miniature Crème Brûlée, Chocolate Decadence, Lemon Gateau, French Apple Tortes, Chocolate-Dipped Strawberries, Chocolate Truffles, Assorted Mousse Tartlets, Petit Four, Seasonal Fruits and Berries, Café Au Lait, and French Cordials
A Complete Make-the-Sundae-of-Your-Dreams Experience
Vanilla Bean, Chocolate, Mint Chocolate Chip, and Strawberry Ice Cream. Bananas Foster Flambé, Brandy 'Stir-Fried' Berries, Warm Pound Cake, Chocolate Cake and Brownie Sundae Bottoms, Chocolate and Sprinkle Adorned Cones, Hot Fudge, Whipped Cream, Cookie Dough, Candied Nuts, Granola, Gummies, Oreos©, Fresh Strawberries, Fresh Bananas, Crushed Chocolate Bars, Maraschino Cherries
Hot Dog Cart Departure Station *
---
Our wedding tasting events are planned with varying menus so that you can choose the date and menu offering that will best suit your needs.
Tasting events are held six times per year, beginning at 6:00 pm and include the following:
• Cocktail Hour – featuring butler-style hors d'oeuvres, chilled and hot stations, and displays from our wedding package.
• Four Course Dinner – two courses prior to the entrée, four choices of entrée, a dessert course, a wedding cake sampler and a specialty dessert.
• Top-shelf open bar throughout the event and an enhanced station of the day.
Tasting events are by reservation only and limited seating is available. Please call us at 845-486-4700 with your reservation name, number of guests in your party, wedding date and the date of the tasting you would like to attend.
We look forward to seeing you at one of our tasting events!