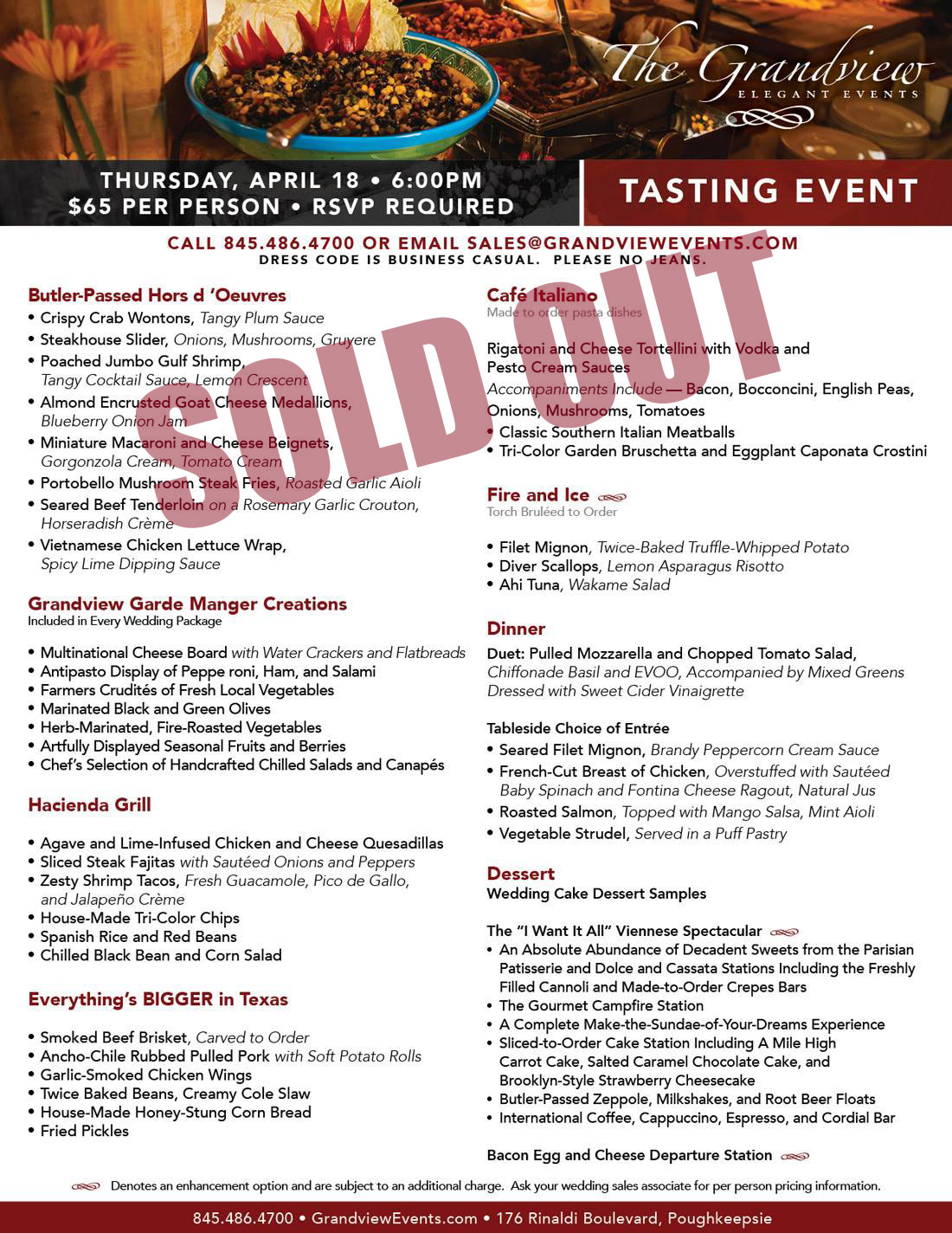 April 18 Tasting Event
April 18, 2019 @ 6:00 pm

-

9:00 pm

|

$65
THIS EVENT IS SOLD OUT
---
Our Menu
Butler-Passed Hors d 'Oeuvres
Crispy Crab Wontons, Tangy Plum Sauce
Steakhouse Slider, Onions, Mushrooms, Gruyere
Poached Jumbo Gulf Shrimp, Tangy Cocktail Sauce, Lemon Crescent
Almond Encrusted Goat Cheese Medallions, Blueberry Onion Jam
Miniature Macaroni and Cheese Beignets, Gorgonzola Cream, Tomato Cream
Portobello Mushroom Steak Fries, Roasted Garlic Aioli
Seared Beef Tenderloin on a Rosemary Garlic Crouton, Horseradish Crème
Vietnamese Chicken Lettuce Wrap, Spicy Lime Dipping Sauce
Grandview Garde Manger Creations
Included in Every Wedding Package
Multinational Cheese Board with Water Crackers and Flatbreads
Antipasto Display of Peppe roni, Ham, and Salami
Farmers Crudités of Fresh Local Vegetables
Marinated Black and Green Olives
Herb-Marinated, Fire-Roasted Vegetables
Artfully Displayed Seasonal Fruits and Berries
Chef's Selection of Handcrafted Chilled Salads and Canapés
Hacienda Grill
Agave and Lime-Infused Chicken and Cheese Quesadillas
Sliced Steak Fajitas with Sautéed Onions and Peppers
Zesty Shrimp Tacos, Fresh Guacamole, Pico de Gallo, and Jalapeño Crème
House-Made Tri-Color Chips
Spanish Rice and Red Beans
Chilled Black Bean and Corn Salad
Everything's BIGGER in Texas
Smoked Beef Brisket, Carved to Order
Ancho-Chile Rubbed Pulled Pork with Soft Potato Rolls
Garlic-Smoked Chicken Wings
Twice Baked Beans, Creamy Cole Slaw
House-Made Honey-Stung Corn Bread
Fried Pickles
Café Italiano
Rigatoni and Cheese Tortellini with Vodka and
Pesto Cream Sauces
Accompaniments Include — Bacon, Bocconcini, English Peas, Onions, Mushrooms, Tomatoes
Classic Southern Italian Meatballs
Tri-Color Garden Bruschetta and Eggplant Caponata Crostini
Fire and Ice *

Torch Bruléed to Order
Filet Mignon, Twice-Baked Truffle-Whipped Potato
Diver Scallops, Lemon Asparagus Risotto
Ahi Tuna, Wakame Salad
Dinner
Duet: Pulled Mozzarella and Chopped Tomato Salad, Chiffonade Basil and EVOO, Accompanied by Mixed Greens
Dressed with Sweet Cider Vinaigrette
Tableside Choice of Entrée
Seared Filet Mignon, Brandy Peppercorn Cream Sauce
French-Cut Breast of Chicken, Overstuffed with Sautéed Baby Spinach and Fontina Cheese Ragout, Natural Jus
Roasted Salmon, Topped with Mango Salsa, Mint Aioli
Vegetable Strudel, Served in a Puff Pastry
Dessert
Wedding Cake Dessert Samples
The "I Want It All" Viennese Spectacular *
An Absolute Abundance of Decadent Sweets from the Parisian Patisserie and Dolce and Cassata Stations Including the Freshly Filled Cannoli and Made-to-Order Crepes Bars
The Gourmet Campfire Station
A Complete Make-the-Sundae-of-Your-Dreams Experience
Sliced-to-Order Cake Station Including A Mile High Carrot Cake, Salted Caramel Chocolate Cake, and Brooklyn-Style Strawberry Cheesecake
Butler-Passed Zeppole, Milkshakes, and Root Beer Floats
International Coffee, Cappuccino, Espresso, and Cordial Bar
Bacon Egg and Cheese Departure Station *
Bacon, Egg, and Cheese on Croissants
---
Our wedding tasting events are planned with varying menus so that you can choose the date and menu offering that will best suit your needs.
Tasting events are held six times per year, beginning at 6:00 pm and include the following:
• Cocktail Hour – featuring butler-style hors d'oeuvres, chilled and hot stations, and displays from our wedding package.
• Four Course Dinner – two courses prior to the entrée, four choices of entrée, a dessert course, a wedding cake sampler and a specialty dessert.
• Top-shelf open bar throughout the event and an enhanced station of the day.
Tasting events are by reservation only and limited seating is available. Please call us at 845-486-4700 with your reservation name, number of guests in your party, wedding date and the date of the tasting you would like to attend.
We look forward to seeing you at one of our tasting events!
Share This Story, Choose Your Platform!