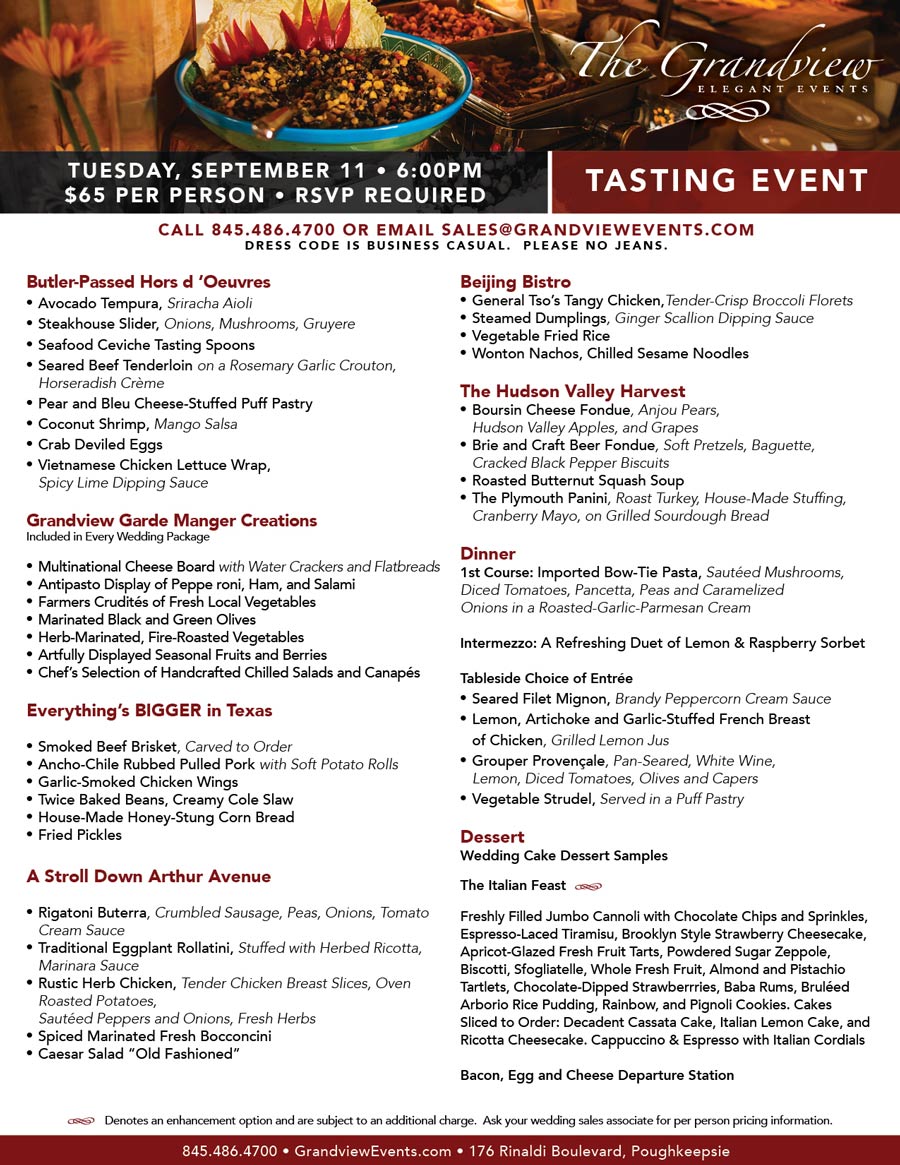 September 11th Tasting Event
September 11, 2018 @ 6:00 pm

-

9:00 pm

|

$65
Contact us today to reserve your space at our tasting event by calling 845-486-4700 or email sales@test.grandviewevents.com.
---
Butler-Passed Hors d 'Oeuvres
Avocado Tempura, Sriracha Aioli
Steakhouse Slider, Onions, Mushrooms, Gruyere
Seafood Ceviche Tasting Spoons
Seared Beef Tenderloin on a Rosemary Garlic Crouton, Horseradish Crème
Pear and Bleu Cheese-Stuffed Puff Pastry
Coconut Shrimp, Mango Salsa
Crab Deviled Eggs
Vietnamese Chicken Lettuce Wrap,
Spicy Lime Dipping Sauce
Grandview Garde Manger Creations
Included in Every Wedding Package
Multinational Cheese Board with Water Crackers and Flatbreads
Antipasto Display of Peppe roni, Ham, and Salami
Farmers Crudités of Fresh Local Vegetables
Marinated Black and Green Olives
Herb-Marinated, Fire-Roasted Vegetables
Artfully Displayed Seasonal Fruits and Berries
Chef's Selection of Handcrafted Chilled Salads and Canapés
Everything's BIGGER in Texas
Smoked Beef Brisket, Carved to Order
Ancho-Chile Rubbed Pulled Pork with Soft Potato Rolls
Garlic-Smoked Chicken Wings
Twice Baked Beans, Creamy Cole Slaw
House-Made Honey-Stung Corn Bread
Fried Pickles
A Stroll Down Arthur Avenue
Rigatoni Buterra, Crumbled Sausage, Peas, Onions, Tomato Cream Sauce
Traditional Eggplant Rollatini, Stuffed with Herbed Ricotta, Marinara Sauce
Rustic Herb Chicken, Tender Chicken Breast Slices, Oven Roasted Potatoes, Sautéed Peppers and Onions, Fresh Herbs
Spiced Marinated Fresh Bocconcini
Caesar Salad "Old Fashioned"
Beijing Bistro
General Tso's Tangy Chicken,Tender-Crisp Broccoli Florets
Steamed Dumplings, Ginger Scallion Dipping Sauce
Vegetable Fried Rice
Wonton Nachos, Chilled Sesame Noodles
The Hudson Valley Harvest
Boursin Cheese Fondue, Anjou Pears, Hudson Valley Apples, and Grapes
Brie and Craft Beer Fondue, Soft Pretzels, Baguette, Cracked Black Pepper Biscuits
Roasted Butternut Squash Soup
The Plymouth Panini, Roast Turkey, House-Made Stuffing, Cranberry Mayo, on Grilled Sourdough Bread
Dinner
1st Course: Imported Bow-Tie Pasta, Sautéed Mushrooms,
Diced Tomatoes, Pancetta, Peas and Caramelized
Onions in a Roasted-Garlic-Parmesan Cream
Intermezzo: A Refreshing Duet of Lemon & Raspberry Sorbet
Tableside Choice of Entrée
Seared Filet Mignon, Brandy Peppercorn Cream Sauce
Lemon, Artichoke and Garlic-Stuffed French Breast of Chicken, Grilled Lemon Jus
Grouper Provençale, Pan-Seared, White Wine, Lemon, Diced Tomatoes, Olives and Capers
Vegetable Strudel, Served in a Puff Pastry
Dessert
Wedding Cake Dessert Samples
The Italian Feast
Freshly Filled Jumbo Cannoli with Chocolate Chips and Sprinkles, Espresso-Laced Tiramisu, Brooklyn Style Strawberry Cheesecake, Apricot-Glazed Fresh Fruit Tarts, Powdered Sugar Zeppole, Biscotti, Sfogliatelle, Whole Fresh Fruit, Almond and Pistachio Tartlets, Chocolate-Dipped Strawberrries, Baba Rums, Bruléed Arborio Rice Pudding, Rainbow, and Pignoli Cookies. Cakes Sliced to Order: Decadent Cassata Cake, Italian Lemon Cake, and Ricotta Cheesecake. Cappuccino & Espresso with Italian Cordials
Bacon, Egg and Cheese Departure Station
Share This Story, Choose Your Platform!